WE CONNECT GOOD PEOPLE WITH GREAT ART
Welcome to InArt. Our mission is simple; we connect good people with great art. How do we do this? We take art to where people gather, whether this is a boutique Santa Fe Art Gallery or a five-star hotel in the southwest. We curate exceptional collections from the third-largest art market in the United States and make them accessible to folks in an inspirational setting. Visit us at InArt Gallery in Santa Fe or our partnering resorts.
Sign up for our newsletter!
Each month you'll get a preview of upcoming works by our artists, discover new ways to engage with us and learn about forthcoming talks and demonstrations by our artists.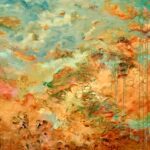 InArt Gallery, located in the heart of Santa Fe, New Mexico, is a hidden gem for art enthusiasts seeking a unique and diverse collection of contemporary artwork. Tucked away on Delgado Street just off the famous Canyon Road, InArt Gallery offers visitors an intimate setting to explore a carefully curated collection of primarily Santa Fe-based artists.

What sets InArt Gallery apart from other galleries in Santa Fe is its eclectic mix of styles and mediums. The gallery showcases contemporary artwork, including painting, sculpture, photography, and mixed media. The gallery also boasts diverse artists, ranging from emerging talents to established names in the art world.

One of the standout features of InArt Gallery is the attention to detail that goes into each exhibition. The gallery's owner, Mike McKosky, is a Santa Fe art community fixture and carefully selects each piece for display. This results in exhibitions that are not only visually stunning but also intellectually engaging.

InArt Gallery also allows visitors to meet and interact with the artists. The gallery hosts regular events, including artist talks and workshops, where visitors can engage with the artists and learn more about their creative process. This adds to the gallery's intimate and welcoming atmosphere, allowing visitors to form a deeper connection with the artwork.

Overall, InArt Gallery is a must-visit destination for art enthusiasts visiting Santa Fe. With its highly curated yet eclectic collection of primarily Santa Fe-based artists, the gallery offers visitors a unique and intellectually engaging experience. Whether drawn to contemporary painting, sculpture, photography, or mixed media, InArt Gallery has something to offer everyone. So, next time you're in Santa Fe, stroll down Delgado Street and discover the hidden gem in InArt Gallery.